Toward clarification of the History of the Universe
Why our Universe was bone and how it developed into the present state? Since its birth at the Big Bang, the Universe has experienced various drastic events. Because the Universe is not a stable object, we have to understand and explain the present state as a consequence of dynamical processes the Universe has experienced. Though many events in the History of the Universe have been clarified, many pieces are still missing to understand our Universe today.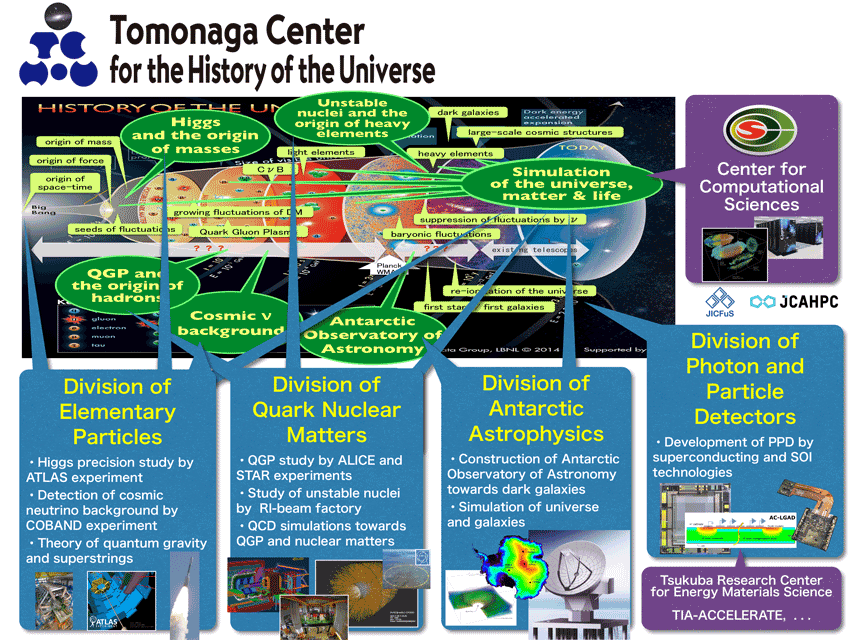 Tomonaga Center for the History of the Universe (TCHoU) was founded in October 2017 as a research center at the University of Tsukuba. The mission of the Center is to clarify the genesis of the Universe as well as the origin of matter and life and to construct an integrated view of the History of the Universe, through international and interdisciplinary collaboration of particle, nuclear, and astrophysics as well as resonant cooperation of experimental and theoretical approaches.
Toward this goal, the center has established the following four research divisions:
♠ Visit [About the Center] for an overview of the Center.
♦ Visit [Projects] for the research projects of the Center.
♥ Visit [Organization] for the organization and members of the Center.
♣ Visit [Materials] for introductory materials and reports.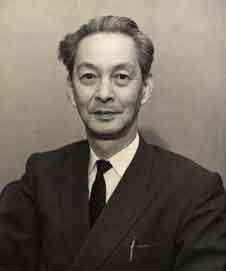 The name Tomonaga Center comes from Dr. Sin-Itiro Tomonaga, the second Nobel Laureate from Japan, who made fundamental contributions in constructing relativistic quantum field theories, the renormalization theory, theory of collective motions, etc. and also a founder of the physics institute at Tsukuba.
Visit Tomonaga Memorial Room, Univ. Tsukuba and Tomonaga Exibition at the University of Tsukuba Gallery for more information about Dr. Tomonaga.
(Photo: Tomonaga Memorial Room)
What's new
2021/09/24 Theory-Experiment Joint Workshop for Modeling of QCD Phase Transition and QGP Formation in Heavy-Ion collisions

We hold one day online workshop in order to bring together theorists and experimentalists and to discuss about recent status and progress of the modeling of the QCD phase transition and QGP formation in heavy-ion collisions for understanding the space-time evolution of quark-nuclear matter at high-temperature and high-density.

Date: Nov. 24, 2021 (fri) 9:30-17:30

Venue: Online Zoom meeting (will be accounced to the registered participants)

Co-hosts: Heavy Ion Cafe, Heavy Ion Pub

Registration: registration

Program: program (Presentations are in Japanese)

Number of participants: 65

Contact: Prof. S. Esumi



2021/09/11 Tsukuba Global Science Week (TGSW) 2021 "Universe Evolution and Matter Origin"

As the Session 4-11 of the Tsukuba Global Science Week 2021, TCHoU is organizing International Workshop on "Universe Evolution and Matter Origin" as an on-line workshop.

Participation is free. Please register from the registration web site below to receive the connection details.

Date: Nov. 11, 2021 (sat) 12:15-21:10

Venue: Online Zoom meeting (will be accounced to the registered participants)

Web site: TGSW / HoU session (session No. 4-11)

Registration: registration web site

Program: program

Number of participants: 60

-->

Contact: Prof. S. Esumi



2021/06/25 TCHoU Research Member Meeting / Activity and Achievement Reports

We have a meeting of the research members of the Tomonaga Center for the History of the Universe, followed by reports on main achievements in each field in the second period of FY 2020.

Date: 25 Jun 2021 (Fr)

Venue: zoom online meeting

Program: (presentations are in Japanese)

Number of participants: 35

Contact: Prof. N. Kuno



2021/05/17 New mail address for TCHoU

The mail address to the Tomonaga Center for the History of the Universe (TCHoU) was modified to
TCHoU@tchou.tomonaga.tsukuba.ac.jp



2021/04/06 New URL for TCHoU

The URL for the web site of the Tomonaga Center for the History of the Universe (TCHoU) has been changed to
https://tchou.tomonaga.tsukuba.ac.jp/

Please update the links to TCHoU on your sites.



2021/04/06 Asso. Prof. Hara and Assi. Prof. Hashimoto received the 2021 Commendation by the Minister of Education, Culture, Sports, Science and Technology, Japan

Asso. Prof. HARA Kazuhiko (Chair of the Div. of Photon and Particle Detectors) and Assi. Prof. HASHIMOTO Takuya (Div. of Antarctic Astronomy) received the 2021 Commendation for Science and Technology by the Minister of Education, Culture, Sports, Science and Technology (MEXT).

Link at MEXT (in Japanese): "About the 2021 Commendation for Science and Technology by the Minister of Education, Culture, Sports, Science and Technology"

Asso. Prof. Hara won the Award for Science and Technology (Category for Promotion of Science and Technology) for his contributions to the development of silicon detectors for particle physics experiments and their social applications.
He has conducted development of silicon detectors for the energy-frontier experiments, UA2, CDF and ATLAS leading to the discovery and precision measurements of W/Z, top and Higgs particles. He records the highest Google Scholar h-index (according to the University survey) among Japanese researchers. He also investigated the status of nuclear debris in the Units 1-3 of Fukushima Daiichi using cosmic muons and the technologies developed for the high-energy experiments.





Assi. Prof. Hashimoto won the Award for Young Scientists for his observational researches of various most distant galaxies using emissions from ionized carbons.
Observations of the most distant galaxies in the universe are important for understanding galaxy evolution and cosmic reionization phenomena. The establishment of a new observation method has been an important issue for spectroscopic observations of distant galaxies when the age of the universe was less than a billion years. Dr. Hashimoto established a new observation method for distant galaxies based on the combination of a doubly-ionized oxygen emission line and the ALMA telescope, which has the highest sensitivity. He led an international research team and succeeded in observing the most distant galaxy in history, 13.28 billion light years away, and the most distant merging galaxy, 13.1 billion light years away.



Visit [Archive] for previous news and announcements.

---